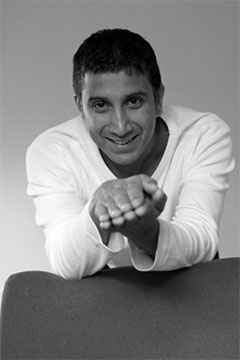 Contact Andrew – 07808 297 978 – andrew@thenaturalpath.co.uk
Andrew is an experienced naturopath and massage therapist who specialises in combining a variety of disciplines to truly cater to the individual's needs.  Andrew's passion for healing and learning from master practitioners led him to India, China, Thailand and Sri Lanka to train and develop his range of techniques over the last twenty years.  Andrew also completed a 5 year Naturopathic Diploma Course at The College of Naturopathic Medicine (CNM) in London. He is a member of the naturopathic association and adheres to a strict code of conduct. He continues to develop professionally, attending yearly courses to enhance his knowledge and skills as a body worker and naturopath.
Andrew has a warm, professional and relaxed manner which helps his clients feel at ease. His care and attention to the needs of the individual has secured him many long-term, loyal clients.
In addition to working at Pure Moves, Andrew is the lead masseuse and therapist manager at Vital Detox, one of the leading retreat companies in the UK.
---
---
Facial Rejuvenation
Facial Rejuvenation Acupuncture, also known as Cosmetic Acupuncture or Acupuncture Facelift, is a painless, non-surgical and safe treatment method used in fighting the ageing process.
Very fine, single use acupuncture needles are inserted at individually selected acupuncture points on the face to stimulate the flow of Qi (energy) and improve blood circulation. This brings nutrients to the skin and muscles and removes metabolic toxins. Some other acupuncture points on the body may also be selected for their effect on general health and wellbeing.
Once the needles are inserted you may experience a very pleasant warm tingling sensation, which is a sign that the treatment is having an effect. You will then be left to relax while the treatment works. In addition to Facial Rejuvenation Acupuncture, electro acupuncture, acupressure massage and dietary advice may be used to supplement the treatment.
Benefits often gained include:
Increase the production of collagen
Make skin look firmer and younger
Diminish the appearance of deep wrinkles
Entirely eliminate fine lines
Improve facial muscle tone
Reduce the appearance of double chin
Lessen bags under the eyes and reduce drooping eyelids by improving fluid metabolism.
Booking
Andrew Mukhopadhay is our specialist, read more about him here.
Contact Andrew – 07808 297 978 – andrew@thenaturalpath.co.uk
---
---
Naturopathy
Naturopathy is a multi-disciplinary approach to health care that recognises the body's innate power to heal itself. Naturopaths believe that the body has a natural state of equilibrium known as 'Homeostasis' and a vital force which allows healing to occur. Naturopaths aim to strengthen the body's natural defences and internal functions so that it can bring itself back to health.
During an initial consultation, information will be taken to determine the appropriate holistic approach to health by treating the individual on all levels of well-being. Diagnostic tools such as Digital Meridian Imaging, tongue and pulse observations and iris analysis are carried out to identify strengths / weaknesses and the underlying cause of disease.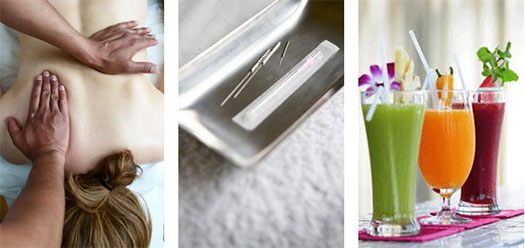 A variety of massage techniques, stretches and acupuncture may be used to release tension within the muscular system and to rebalance your body's energy. Advice may also be given on nutrition and detoxing, exercise and lifestyle changes in order to obtain a synergistic approach.
Booking
Andrew Mukhopadhay is our specialist, read more about him here.
Contact Andrew – 07808 297 978 – andrew@thenaturalpath.co.uk
---
---
Thai massage
The ancient healing techniques of Traditional Thai Massage date back thousands of years to the times of Buddha. It is a spiritual and medical practice based on classical Indian medicine. In ancient Thailand the massage was passed from Monk to Monk in order to maintain a sound physical, emotional and spiritual existence.
Traditional Thai Massage combines aspects of Acupressure along energy lines and Yoga stretches to release blocked energy and to rebalance the body's energy. The treatment is carried out on the floor during which the patient remains fully clothed. A number of gentle techniques using the hands, elbows and feet are applied to release tension and allow energy to flow freely.
Booking
Andrew Mukhopadhay is our specialist, read more about him here.
Contact Andrew – 07808 297 978 – andrew@thenaturalpath.co.uk
---
---
Reflexology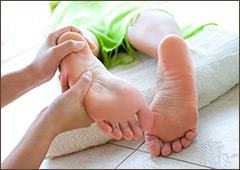 Reflexology is a safe, natural therapy that is extremely relaxing and can help the body to boost its own healing processes.
By applying gentle pressure to a series of reflex points on the feet, which are all connected to different parts of the body, from organs and glands to the nervous system, reflexology stimulates and enlivens the whole body, helping it to function at its optimum level.
Reflexology is a very gentle treatment that can help boost the immune system and create a stronger body and calmer mind. Reflexology can also be used to support pregnancy, labour and post-natal recovery.
Other conditions reflexology can help with include:
coping with stress / anxiety
pregnancy
hormonal imbalances
digestive problems
sleeping problems
Booking
Andrew Mukhopadhay is our specialist, read more about him here.
Contact Andrew – 07808 297 978 – andrew@thenaturalpath.co.uk