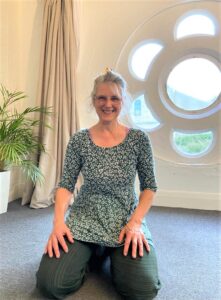 Contact Eva Warman – 01373 464 520 – eva@puremoves.com
Eva Warman first came across Qigong while living in Vienna, in a course at the Buddhist Centre in 1983/84.
After moving to Britain in 1985, Qigong entered her life again during her Shiatsu training. Inspired by her final year Shiatsu teacher Daverick Leggett, who was at that time also qualifying as a Qigong tutor with Master Zhixing Wang, she started attending regular training courses with both these teachers. Her practice is an ongoing journey of deepening her understanding of working with the Qi (energy), both in personal study and with her teachers.
Gentle, meditative movements and still postures help to feel and harmonise the energy field inside and around the body. Qigong improves flexibility and balance and builds strength and resistance against illness. A deeply healing, nurturing way to exercise and  pay attention to yourself, it calms and relaxes, but leaves you energized.
This particular style, created by Zhixing Wang, is called Hua Gong. It especially promotes healing and transformation. She also teaches other widely known forms , and acupressure points for common ailments.
She has taught classes in Frome for many years. These classes are designed to help with deep relaxation and re-connecting with your own body and energy state. Qigong has helped many people to be calmer, more energized and get rid of aches and pains.
Qigong class times:
Mondays – 11:30 – 12:45
Fridays – 9:30 – 10:45
Qigong class prices:
In advance half termly £9 – Drop in: £10.00
Shiatsu
Eva is also an experienced Shiatsu practitioner. She first experienced Shiatsu 30 years ago while still living in her home country Austria. This so impressed and delighted her that she decided to explore it in greater depth. After moving to Frome in 1985 and spending some years at home with her young children, she got the chance.
Eva did the 3 year training with the European Shiatsu School in Bath and Reading, with teachers she is still in regular touch with. She graduated in 1993 and became a fully insured member of the Shiatsu Society Register (M.R.S.S.) in 1994. Since then she has been enthusiastic about introducing the community to the power and the benefits of Shiatsu. Over the years she has gained a lot of solid experience and done several post-graduate courses with the Shiatsu College, and other specialized workshops. This has taken her skills and knowledge to a deeper level and kept her in touch the Shiatsu Society and the wider Shiatsu community.
Eva has always practised in Frome, from various locations, over recent years from home and from the Natural Health Clinic. The new venture at Pure Moves is aimed to offer treatments in a lovely, quiet setting which in itself provides a peaceful, healing space.
Costs
Initial treatments (90 min) £55
1 hour sessions £40
Courses of 4 treatments are often beneficial to deal with specific problems, and there will be a discount of the 4th treatment at half price.
To enable people to maintain their health even in difficult times Eva will also be available for shorter treatments on Saturdays:
30 min "Weekend Health Boosters" £20